Some days, I'm "press," when interviewing for the podcast. This day, it was an interview with 2020 Democratic POTUS candidate, US Senator Amy Klobuchar.
Inspired by my book, Vote Her In: Your Guide to Electing Our First Woman President, the #VoteHerIn podcast is a 77-episode special series, a joint project of Two Broads Talking Politics and me. The purpose of the series was to inspire and inform activists campaigning to increase American women's political power, showcasing women's advocates and office-holders who guide and lead the movements to elect more women and advance women's equality. Focusing on the importance of diverse women's political leadership and the messages and organizing strategies that work in today's politics, in occasional special editions, the podcast featured political artist friends on why feminist political art matters. Among other colleagues of mine who have joined #VoteHerIn, are:
US Senators Amy Klobuchar, Kirsten Gillibrand, and Debbie Stabenow
Members of Congress Robin Kelly, Lauren Underwood, Jan Schakowsky, and Carolyn Bourdeaux
Karine Jean-Pierre, White House Principal Deputy Press Secretary, Office of POTUS Joe Biden
State-wide officeholders, including IL Lt. Governor Juliana Stratton; Michigan Attorney General, Dana Nessel and Secretary of State Jocelyn Nessel; and Wisconsin State Treasurer, Sarah Godlewski
Best-selling authors Linda Hirshman, Maxine Duster, Irin Carmon, Jill Wine-Banks, Molly Jong-Fast, and Julie Scelfo
Organizational leaders Erin Vilardi, CEO, VoteRunLead; Alaina Beverly, University of Chicago; Dorri McWhorter, CEO, YMCA of Metro Chicago; Fatima Goss-Graves, CEO, National Women's Law Center; and past World Food Programme director, Ertharin Cousin
Political and policy strategists Laura Murphy and Celinda Lake
Government executives, including Anna Valencia, Chicago City Clerk; Toni Preckwinkle, President, Cook County Board of Commissioners; Sol Flores, Illinois Deputy Governor; and Anne Caprara, Chief of Staff to Illinois Governor JB Pritzker
Journalists Laura Washington, Lynn Sweet, Heidi Stevens, and Amee Vanderpool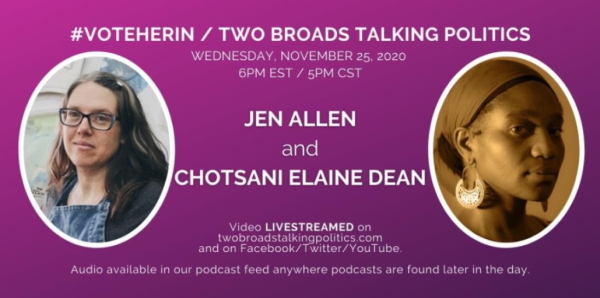 "Jen Allen and Chotsani Elaine Dean talk: Jen about her cloth mask-making response to the pandemic; Chotsani, about her mixed-media work portraying the tragic American history of the fabric, cotton. Jen and Chotsani share images and discuss in the context of Thanksgiving as a day to treasure hearth and home, but also to recognize the continuing struggle for racial justice and women's equality.
You can listen/watch all the episodes of #VoteHerIn on its YouTube channel. For further info, follow me on Facebook, Instagram, Twitter, and LinkIn.
"The 15 best political podcasts…will help you cut through the noise and focus on what's important to you."
We've hosted some incredible guests. You won't want to miss any. Find the podcast wherever podcasts are aired.
Linda Hirshman is the best-selling author of numerous books, including the definitive biography of US Supreme Court Justices, Ginsburg and O'Connor.
Access the Two Broads podcast on these platforms:
Spreaker | Apple Podcasts | Google Play
Stitcher | TuneIn | PlayerFM | iHeartRadio | Spotify
Here are frank and inspirational comments from former First Lady Michelle Obama about why our activism is so important:
"In light of this last election [2016], I'm concerned about us as women and how we think about ourselves and about each other. . . . What is going on in our heads where we let that happen, you know? . . .When the most qualified person running was a woman and look what we did instead, I mean that says something about where we are. . . . That's what we have to explore . . . if we still have this crazy, crazy bar for  each other that we don't have for men . . . if we're not comfortable with the notion that a woman could be our president compared to what  . . . we have to have that conversation with ourselves as women."

Michelle Obama

United State of Women Summit in Los Angeles, California; May 5, 2018